Daniel Balaze, DMD, FAGD
A native Michigander, I was raised in a small town outside Flint, Michigan. My maternal grandfather worked for GE, and my paternal grandparents were both detectives for the Detroit police department. My mother was a speech therapist, and my father continues to practice dentistry in Lapeer, MI.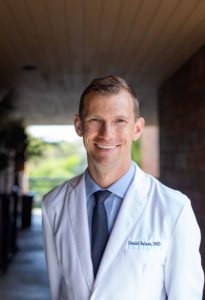 Very early on, my parents saw my love of music, and found excellent private instruction for me. As a young bass player, I was accepted into the studios of Steve Molina [Detroit Symphony], and Peter Dominguez [Michigan State University]. I studied with them through my high school education. Though I worked in my fathers dental office occasionally, I chose to pursue music. After graduating from the Interlochen Arts Academy, I was accepted to some of the best music schools in the country. Being able to train with the members of the Cleveland Orchestra appealed greatly to me, and in 2001 I completed my music training at the world class Cleveland Institute of Music with the assistant principle bassist, Scott Haigh.
With the desire to follow in my fathers footsteps, I soon found myself at the doors of Case Western Reserve University School of Dental Medicine. With the ability to continue to work with my hands in what I consider a very artistic environment, dentistry became my music. Similar to my studies in music, I continued my studies at the prestigious Pankey Institute. Graduating from their core curriculum in 2013, I earned my Fellowship in the Academy of General Dentistry [FAGD] in 2014. Through my continued training I am privileged to count many of dentistry's great leaders as friends and mentors.
With ever-increasing frequency, there are many new technologies available, and incredible advances in dental medicine. It is my belief that they need to be shown, through research, to be superior before they enter into our practice. When we do introduce new technology to you, know that it is only after diligent research that we are comfortable doing so.
The community in which I live has always been a big part of my life. We are still new here, but I have already begun to serve as a volunteer member of the South Coast Symphony bass section.  It is a fabulous group that I have found fun and rewarding to play in. If you are ever at a performance, please find me afterwards and say hello!
I am married to my college sweetheart, Lin, who also completed her music training at the Cleveland Institute of Music.  We now are making our home in Laguna Niguel, CA, with our two beautiful daughters where I am privileged to work and learn alongside an amazing mentor, Dr. Bill Gregg.
Our practice is conveniently located at the corner of Town Center and Alicia Pkwy. in Laguna Niguel, California, and we now offer an in-house benefit plan!
30131 Town Center Dr. #250; Laguna Niguel, California 92677