7 Ways To Clean Your Dental Implant – I Bet You Haven't Heard of #3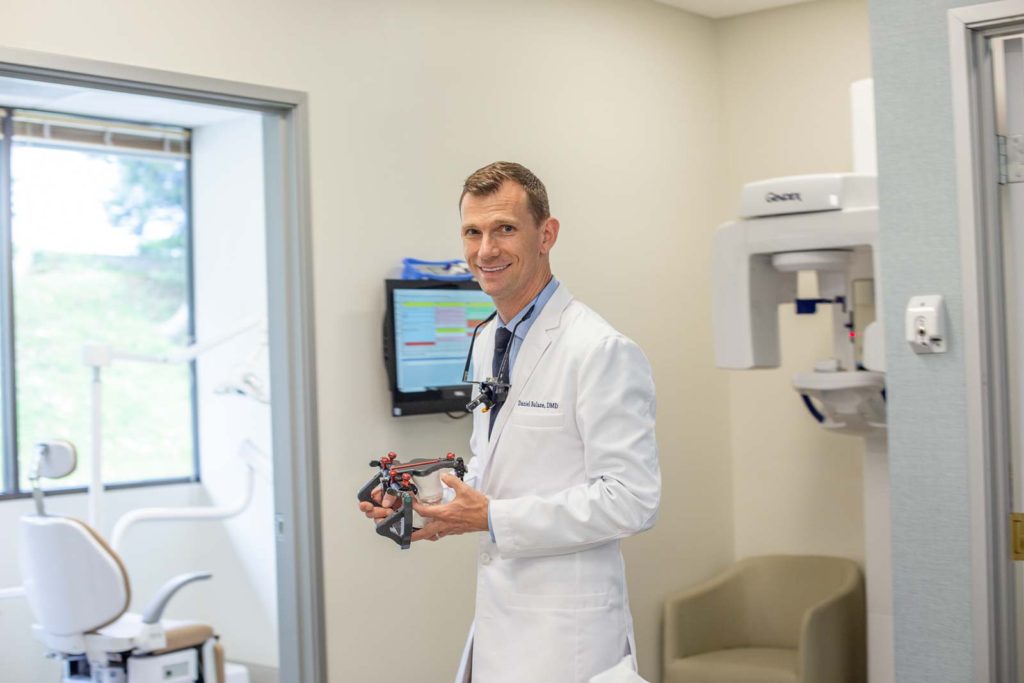 As an Amazon Associate, I earn from qualifying purchases.
The Right Way To Clean A Dental Implant?
It doesn't matter when you got your implant placed. You still need to take care of it. But what if it's not easy?
You brush. You floss. But – it's still swollen, it's still inflamed, it still bleeds when you even think about flossing.
Every time you get your teeth cleaned, they tell you how you need to clean it better.
You're doing everything you can — and it's still not enough.
Or so you think.
You may be doing everything that's been recommended to you by your dentist of hygienist, but what if there are things you're not doing?
Things you could try?
Techniques that might work better – not for everyone – but better for you?
I believe that there are so many different problems and challenges people face that it's impossible to have one single "right way" to do something. Especially when it comes to caring for implants.
Let's talk about some of the things that can make it hard for you to keep your implant healthy.
Dr. Balaze
Dental Implant Problems
Poor position, hidden cement, too high, too low, too big, too small, loose screw
Sometimes, the reason you are having a hard time keeping your dental implant healthy ahs nothing to tdo with you. Instead, it has everything to do with the implant. Unfortunately, once the implant is healed and integrated there isn't much we can change.
I've written before about Dental Implants and even posted some videos.
Let's talk about some of the most common.
Poor Implant Position
Too high, too low, too in, too out, bad angle
If your implant is in a difficult position to clean, it's… erm… well… difficult.
How do implants get in these positions? Sometimes we plan and God laughs. Other times it's due to difficulty at the time of surgery – access is especially difficult for back teeth.
Extra Cement
Another common problem causing irritation around an implant comes from a critical step when we put the crown on. Hidden bits of cement. As we talked about in this post about how we put crowns on implants – One way is to cement the crown to the implant abutment. When we use this technique, there's a possibility that some leftover cement remains under the gums. Even the smallest particle of residual cement can cause an inflammatory response.
Oddly Shaped Crowns
When we have an implant that is mal-positioned, sometimes we need to make the tooth look pretty. Usually this is because we can see it when you smile.
We want your smile to look nice.
You do too.
So, we choose to accept a compromise. The crown or abutment needs to be shaped for esthetics… for beauty… and at the cost of cleansability.
When this happens, you can end up with chronic inflammation, food traps, etc.
Patient Problems
There are also some reasons you might have trouble keeping your implant healthy that aren't related directly to your implant – nor your teeth for that matter.
The oral-systemic connection is well documented. [If you want to learn more, check out my current book-list for some recommendations!]
Dry Mouth
Did you know that the vast majority of medications prescribed in this country have dry mouth listed as a side effect? Having a significant reduction in the production of saliva means that your mouth's ability to clean itself is significantly limited. This puts your implant at risk of having plaque and calculus build up.
Auto-immune Disorders
Arthritis, Sjogren's, Lupus, HIV…- the list is long. Any auto-immune disorder will have some increased inflammatory response. What this means for you and your dental implant is this: the slightest bit of plaque / bacteria / biofilm will cause inflammation. This inflammation will put your implant at risk, and at the same time increase the severity of your auto-immune symptoms.
Poor Dentistry
"What does that filling have to do with my implant?!?" If it's right next to the implant or in the opposite corner of your mouth, if bacteria can hide there they will. And they like to travel. The healthier the rest of your mouth is, the less likely it will be for you to have problems with your dental implant.
What are the best ways to clean a dental implant?
Yes there is a standard – dental floss – and I think you should try it. It works for most everyone. It's cheap. It's available everywhere. There are many many reasons why this should be your first choice. There's a chance, however that it doesn't work for you. Some people have limited dexterity. Others have a tendency for the floss to catch between teeth.
The point is this: Not everyone is able to use floss effectively. I wanted to search for some of the less common methods. Methods that periodontists [dentists that specialized in gums and bone around the teeth] recommend to their patients with implants that are hard to clean. I want to give you the best chance of keeping your beautiful new [old] implant as healthy as possible.
What can we do?
The first thing – the most important thing – is to understand that these problems, these challenges, they aren't anyone's fault. Everyone in our team from the administrators to the assistants to the doctors. Including the doctors we have place our implants. They are ALL amazing, caring, loving, conscientious people. If you have one of these implant problems, I promise that everyone on your team did everything they could to give you the best result possible.
The second most important thing is for you to take ownership in the problems. If we are going to keep your mouth healthy, and protect your investment in this implant, we are going to need you to do everything you can to keep it clean. This is something we can't do for you. You must do this yourself.
I may be a little biased, but I think all of us here at Laguna Niguel Smiles Dentistry are pretty innovative and creative when it comes to home-care. To our patients in our practice here in Laguna Niguel, CA, we often recommend non-traditional methods when there is a trouble area that "normal" home-care isn't helping.
Schedule Your Apponitment
Easily schedule an appointment to fit your needs.
More opinions are always better, right?
7 Tips (Plus a bonus) From Dental Implant Experts
To help provide you with as many possible solutions / techniques / methods as possible, I asked some of my favorite Periodontists and asked them for their favorite recommendations.
Recommendation #1: Proxabrush by TePe
Almost all of the periodontists I spoke with recommended using some kind of interdental brush with or without mouthwash. And, they all mentioned using Proxabrush by TePe.
Recommendation #2: Rinse with Sodium Hypochlorite [household bleach]
Philip Fava, DMD, MDSc [@phresh_prince_of_perio] recommends rinsing with a solution made with 1 Tbs Bleach and 4 oz of water. Citing an article in the Journal of Western Periodontology this method has the distinct advantage of being cheap and readily available. As well as being effective in reducing plaque and bacteria by nearly 50% when used just 2x per week.
Recommendation #3: Practice your Ninja flossing skills with Gum Chucks
Jess Liu, DDS, MSD, CAGS [@perio_jessliu] shared a nifty little tool to help get floss in placed your fingers might not fit – gum chucks – and says that these help his patients a lot!
Recommendation #4: Use a Water Flosser
This was also a very popular recommendation.
Demitriy Ivanov DDS [@perioimplant_la] recommends using a water flosser to get places that regular floss might not reach. This has the added advantage of being easier to use if you find your manual dexterity doesn't allow you to use regular floss.
Hydro Floss
Recommendation #5: Regular Visits
All of our experts said this, but Matthew J Fien, DDS [@fienodontics] and Dr. Polly Huang [@periopolly] made sure to emphasize it. I also don't think that the importance of regular visits can be underemphasized. If you have had an implant placed, it's likely because your oral health is compromised for some reason. This puts you at higher risk for new problems, and we know how to minimize that risk.
How, you ask?
By seeing you every three months for a detailed cleaning. An ounce of prevention is worth a pound of cure. Truly. If we can monitor you closely, then we can help catch problems while they are small and easily managed.
Recommendation #6: Be a Cowboy or a Sailor
Dr. Yvette Carrillo [@perio.princess] likes to teach patients how to use their standard floss, with a twist. By forming an "x" with your floss you are able to "lasso" the dental implant and clean all surfaces with one motion. Alternatively, you can get nautical and tie a knot or two. When these knots pass through the teeth, they make it easier to get large spaces clean.
Recommendation #7: Get Super!
Dr. Krupa Patel [@phperio] shared one last floss variation that helps a lot of her patients. Superfloss. This product is a 3-in-1. One end is coated in plastic to help guide it under and around things like bridges and the other end is more like regular floss [but much thicker]. The middle is a spongy floss that is large enough to be great at cleaning up odd spaces like those around implants.
Bonus Recommendation #8: Keep It Simple, Silly
As you can see, it's no longer about brushing and flossing. You need to do whatever you can to keep your dental implant clean and healthy. Sometimes that means using "alternative" techniques. But, keep this in mind, "simple is always better," says Dr. Huang.
Looking at all of the results above, the overwhelming response was focused around two main strategies – frequent cleanings by a Registered Dental Hygienist, Dentist, or Periodontist, and using a Proxabrush.
I hope this helps provide some options to those of you struggling with keeping your dental implant healthy. If you have any questions, comments or concerns, please don't hesitate to contact our office. Furthermore, if you live in Laguna Niguel, or any of the wonderful communities here in Orange County, CA, we would love to see you in person! We are easily accessible from cities like, Aliso Viejo, Mission Viejo, Dana Point, San Clemente, Laguna Beach, Laguna Woods, and Laguna Hills.
Schedule Your Apponitment
Easily schedule an appointment to fit your needs.