Is Your Smile Ready for the Holidays?
The holidays are fast approaching.  That means that there are going to be lots of photos taken.  Some of them are bound to have you  in them.  And your smile.  Are you ready for that?
The Fastest Way to White Teeth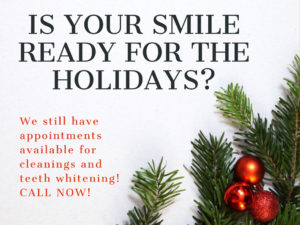 We hear it all the time.  "How can I get my teeth whiter?" or, "I wish my smile was a little brighter."
To be honest – most people have beautiful teeth.
They are just covered in gunk.
What's the gunk? Plaque. Calculus. Stain. Ew.
Once that stuff starts accumulating on your teeth, it's near impossible to get off.  There is no amount of charcoal toothpaste or lemon and ashes that are going to fix that.
Please stop trying to whiten your teeth using over-the-counter, or youtube methods.  They don't work, and they can damage your teeth and gums.
How Can I Whiten My Teeth Safely and Naturally?
The first step would be a thorough and gentle cleaning.
Let's just get all of that cleaned off your teeth.  Once the plaque, tartar, stain, and other icky stuff is gone, then we can re-evaluate what color your teeth actually are.
Most people are thrilled with the color of their teeth after a simple cleaning like that.
If there is still a desire to whiten the teeth, then there are several options available.
Take-Home Kits
I like to call this "White strips that work."
These are packs of 10 sets of trays, prefilled with the right amount of perscription strength whitening agents.  They are easy to use, and affordable for most everyone.  Sensitivity is rare, and usually caused by over-excited patients pushing too hard on the trays.
Custom Take-Home Trays
These are what we used to make all the time.  These keep the whitening agents closer to your teeth, for longer more controlled whitening treatments.
The only downside to these is that we need to make impressions, and take time to fabricate the trays.  Which makes them more expensive that the pre-packaged kits.
In-Office, Same-Day Teeth Whitening
This is a treatment that we offer, but don't really do unless there is an absolute time crunch.  If your holiday party is tomorrow, and you want whiter teeth – this treatment is for you.
It takes about 90 min to complete.  And you end up with the same results that you would have gotten if you had used the pre-packaged kit for a week.
Which Teeth Whitening Treatment is Best?
The answer to that question is dependent on your individual needs.  We are happy to offer a complimentary screening to see if teeth whitening would work for you.  Fill out the form below, and we will be in touch!
Schedule Your Apponitment
Easily schedule an appointment to fit your needs.
Our practice is conveniently located at the corner of Town Center and Alicia Pkwy.